Introduction
Description
The general configuration of gravel production line includes vibrating feeder, crusher and vibrating screen. Besides, the large production lines also require dedusting and noise reducing equipment. Our hammer crusher can crush the material into required size for only once, so no secondary crusher is needed for small-scale production line.
Design Process
Early-stage survey on the site. Before construction of gravel production line, the professional technician shall carefully survey the site and timely level or change the production site if it does not meet construction requirements.
Equipment selection is based on the hardness of crushing material, hourly capacity and actual condition of production site.
After selection of appropriate equipment, the technician makes a professional design and arranges detailed process for production.
Features & Advantages
As a professional enterprise engaged in manufacturing equipment for gravel production line, Xinxiang Dingli offers one-stop service including site survey, design, installation and commissioning.
The rapid plant construction model independently developed by Xinxiang Dingli can help customers to build a complete set of production line with fast recovery of cost.
The gravel production line designed by Dingli is featured by reasonable configuration, crosswide distribution, and small area of occupation, high efficiency and sound shape of finished material.
Equipment Configuration
100T/H Gravel Production Line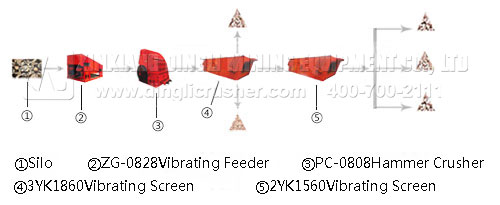 The materials are firstly fed into PC0808 crusher by ZG0828 feeder. Then the crushed material is screened twice by vibrating screen for different grain sizes. The 100t/h small production line is widely used in current market.
1000T/H Gravel Production Line
The bulk material in the silo is successively conveyed from ZG 2038 into PCZ1620 and PCZ1615 for primary and secondary crushing. Then after being screened by 3YK3070 and 2YK3070, various types of finished material are discharged. With large capacity and high efficiency, such production line is generally applied in large production project.