Product Introduction
Description
Heavy hammer crusher is a widely produced and applied machine, and operated with hammer impact principle. It can be divided into primary and secondary heavy hammer crusher with production process. If the aggregates are too hard, you should apply both of them to meet the demand of customers. However our company researched and developed a popular heavy hammer crusher by absorbing all the advantages of heavy hammer crusher and impact crusher.
Working Principle
Each crusher has its own working principle, so does heavy hammer crusher. Motivated by electric belt, hammerhead rotates in the chamber in high speed to impact aggregates and also aggregates impact each other to produce a fine material shape.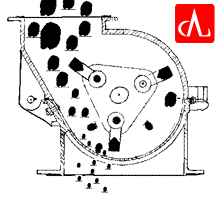 Structure Principle
As to the rotor of heavy hammer crusher, it consists of spindle, disc, and pin. There are holes and pin in disc and hammers hung on the pin by hole. The rotor is the parts for placing and motivating hammerhead.
The spindles of heavy hammer crusher and hammer crusher are the essential parts in supporting rotor. It needs lager flexibility and strength to hold their impact.
As a crushing hammerhead, the quality of heavy hammerhead plays an important role in improving the crushing effect. We largely improved the strength, flexibility, and wear resistance by adopted the composite material.