Introduction
Description
Sand machine, a collective name of sand making equipment, is used for deep processing the raw materials of sand. The proper use of equipment is not only a requirement of production, but also a feasible method to extend the use life of sand machine. The sand machines currently manufactured include heavy hammer crusher, hammer crusher, vertical shaft impact crusher (sand making machine), and ZSJ dual rotor sand shaping machine. They are widely used for primary and fine crushing of limestone, bluestone, shale, river gravel, pebbles, granite, quartz, iron ore, cement clinker and other minerals.
Advantages
With many years of experience in design and manufacturing of mining equipment and production of sand gravels, Xinxiang Dingli Mining Equipment Co., Ltd has produced a various outstanding machines boasted with advanced technology, simple structure, reliable performance, smooth operation, large crushing ratio, low energy consumption and high output, such as, heavy hammer crusher, hammer crusher, vertical shaft impact crusher (sand making machine), ZSJ dual rotor sand shaping machine. These types of sand machine equipment can crush the oversized materials of 2000 mm into various fine aggregates less than 25mm for only once. With sound grain shape, the materials are well in line with national standards.
Structure
Hammer crusher: is composed of shell, rotor, striking plate, hammer, bracket, liner and other parts.
Vertical shaft impact crusher (sand maker): consists of two vertical flange mounted motors, shell, drive shaft, hammer, impact plate and other parts.
ZSJ dual-rotor sand shaping machine: is made of shell, crushing plate, upper & lower rotor, pendulum, rotary drive, sieve and other components.
Operation Principle
Hammer Crusher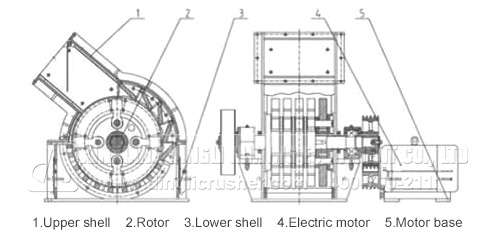 Upgraded on the basis of hammer crusher, the heavy hammer crusher is specially manufactured for artificial sand making with the raw materials of limestone. With the most wear-resistant parts and extra-large feed opening, it can easily crush the bulk materials. The adjustable plate equipped allows the customers to adjust the discharge size according to their needs. Driven by two vertical flanged motors, the vertical shaft impact crusher (sand maker) operates in the principle of "stone striking stone, stone striking iron and iron striking". With the drive shaft driving the hammers to rotate at high speed, the aggregates in the crushing cavity are crushed by the huge crushing force.
ZSJ Dual Rotor Sand Shaping Machine
With the two rotors making relative rotation at high speed during the operation of ZSJ dual rotor sand shaping machine, the aggregates in the crushing cavity are hit by the hammers on the first rotor and then crash into the second rotor for being crushed after obtaining certain momentum. Finally the fine sand and gravel will be obtained after the aggregates receive two high-speed strike forces and their particle size of crushing reaches the discharge size of the grid. With the shell adopting hydraulic opening device, it is convenient to conduct regular equipment care and maintenance.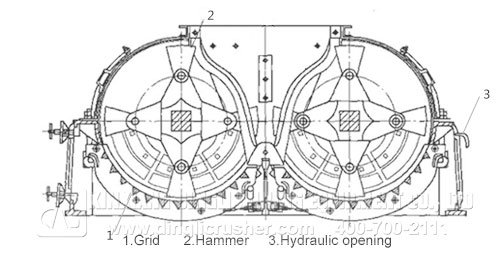 Production Line Configuration
Major equipment: heavy hammer crusher, vibrating feeder, circular vibrating screen, sand making machine, sand washer, conveyors and deduster and other ancillary equipment.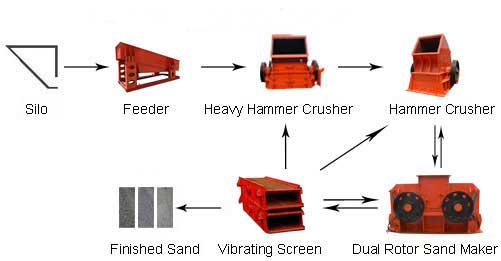 Production process: secondary crushing shall be needed in the production line for the aggregates with high hardness. The general process is: vibrating feeder → feed the heavy hammer crusher (primary crushing) and crush the aggregates for the first time → hammer crusher (secondary crusher) for crushing more standard material → grade the aggregates by YKZ Series Circular Vibrating Screen → send the aggregates suitable for sand making into ZSJ dual rotor sand shaper (sand machine) → screen the finished materials by YKS series circular vibrating screen.
The crushing production line only equipped with primary crusher is applied to the aggregates with the compressive strength less than 200Mpa and calcium content higher than 40%. The general process is: vibration feeder for feeding→ heavy hammer crusher for crushing bulk materials→ conveyor the crushed materials directly into ZSJ sand shaping machine (sand machine, used for aggregates shaping and crushing) → circular vibrating screen for screening → finished materials.
Performance Features & Advantages
With continuous advancement of technology, the sand machines are upgraded from generation to generation. By introducing two outstanding results in the manufacturing industry of sand making machine and developing six patents with independent intellectual property rights, Dingli has dramatically solve the drawbacks of single-rotor sand maker, which consumes high dynamic energy and produces the stones with poor shape. The impact sand maker produces the stones with sound shape but consumes high dynamic energy. Dingli's ZSJ sand maker especially improves the historical disadvantage of low capacity and high dynamic energy consumption of the single machine in the sand making industry.
Increased crushing ratio and improved efficiency of crushing;
Hydraulic opening device equipped in the shell facilitates the maintenance;
High-quality grid ensures the grain size of discharged materials to meet with national standards;
Domestic wear-resistant materials are adopted for the hammers and lining plates with long service life;
By effectively control the particle size of material, it allows the customers to select a suitable fineness modulus;
High output with low energy consumption.