Introduction
Description
There is a variety of crusher equipment, respectively applied in different production projects, impact crusher for the production of finished gravel project, hammer crusher for stone & fine sand production, ZSJ dual rotor sand making machine for the production project required for sand shaping. With years of experience in the manufacturing and processing of stone crushers, Xinxiang Dingli produced all the types of above-mentioned equipment.
Operation Principle
General stone crusher equipment crushes the aggregates through a variety of extrusion, fracture and impact crushing by various parts in the crushing cavity, while the stone crushers manufactured by Dingli crush the aggregates in the crushing cavity through impacting and hammering. Thus you should produce finished gravel materials with the grain shape in line with customer requirements.
Performance Features & Advantages
With complete types of stone crushers being manufactured, Dingli also produces complete finished materials including stone, fine sand and coarse sand.
Each type of Dingli' s stone crusher has its unique technology advantage, for example, grid-free design for heavy hammer crusher and dual rotor design for the sand making machine, etc.
Among all the types of stone crushers manufactured by Dingli, the crusher with large hourly capacity especially stands out. Within the same production time, our equipment can produce more finished materials with the grain shape in line with or much better than national technical standards.
Stone Crusher Production Line Configuration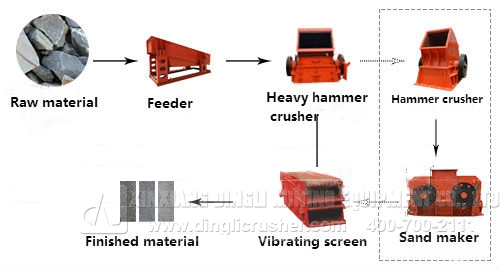 The production line configuration of the stone crusher mainly includes the vibrating feeder, the vibrating screen and the crusher. Different equipment shall be equipped to meet the needs of various production lines. Generally a set of crusher can complete the crushing process of a production line, if necessary, secondary crusher or the sand shaping equipment is needed to meet production requirement.
General production process of the stone crusher includes exploitation of large stone in the mountain, conveying the aggregates less than 1.2m into the crusher by vibrating feeder for crushing and finally conveying the finished stone materials with various particle sizes into different silos through the vibrating screen.