Introduction
Description
Based on decades of R & D in crushing equipment and self-owned stone plant, Xinxiang Dingli, through concentrated study, has manufactured the hammer crusher which crushes the aggregates to required size in one time with low investment, huge crushing ratio and high production efficiency. The production line is featured by high automation and super product quality. Equipped with new dedusting equipment, it can reduce the dust and meet the requirement of national environmental friendly equipment, that obtains recognition and support from the old and new customers in the market.
Limestone mainly includes CaCO3 that can directly be processed into stone material or burned into calcium lime.
Limestone can be calcium or slacked lime. With CaO as the main ingredient and lump as the common shape, the pure calcium lime is black while the impure is light gray or pale yellow. After absorbing moisture or water, the calcium lime will change into slacked lime with Ca(OH)2 as the main component. The slacked lime can be formulated into lime slurry, paste, motor and so on for being used as coating materials and tile adhesive.
In addition to be used as building material, the limestone is also the important raw material for numerous industries.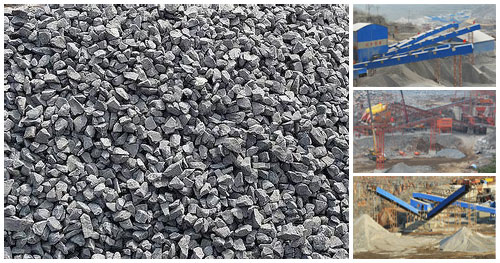 Application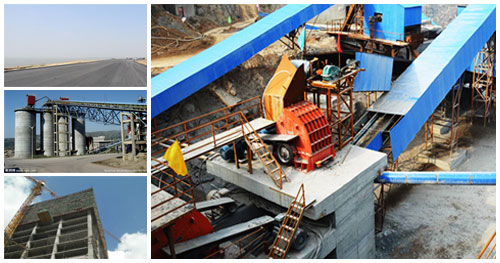 Limestone has a long histroy. It is the main ingredient for making cement, lime, and calcium carbide in modern industry. It is used as indispensable flux limestone in metallurgical industry. Through ultrafine grinding , the quality limestone is widely used for making paper, rubber, painting, coating, medical, cosmetic, feed, sealing, bonding and polishing products, etc.
Process Flow
After being blasted from the mountain, the limestone less than 1200mm is sent into the vibrating feeder by dumper and then the crushed material is evenly fed into heavy hammer crusher for primary crushing. The large blocks coming out of the primary crusher will be transported to the next crusher for secondary crushing and shaping. After being screened by the circular vibrating screen, the block materials with unqualified size will be returned to the secondary crusher for re-crushing while the finished materials are conveyed to the stockpile. With the compressive strength of about 150Mpa, and soft rock of limestone, it is an economical and reasonable technique to adopt the two heavy hammer crushers to form a closed circuit for crushing twice in the limestone production line.

Hammer Crusher
Xinxiang Dingli elaborately designs a kind of special primary hammer crusher that can directly crush the aggregates with particle size of 600mm-1200mm into less than 25mm by absorbing international advanced technology. It crushes the medium hardness and brittle materials with the compress strength less than 200 MPa and calcium content over 40%,such as limestone, coal, salt, chalk, gypsum, alum, brick, tile, coal gangue and so on.

Performance Features
With large feed size and small discharge size, it reduces the operating cost by 35% through crushing the materials to the required size from three times to once. Thus the equipment is featured by low energy consumption and small investment.
Hammer crusher, also named as boulder crusher, is a new type of crushing machine with its design optimized on the basis of those principles of hammer crushing stones, such as ordinary hammer crusher, impact crusher, vertical shaft hammer crusher and so on. It changes the way that uses grid section to control the size of outlet by an adjustable outlet port. This reduces the hammer's wear and increases its working life to 4 to 6 times. This design is a remarkable breakthrough in crushing design that has a great output with less cost.
The hammer crusher of our company uses the most excellent parts. Especially in selecting materials of wear-resistant parts, we use chrome hammer that makes our company have the most advanced technology and the most wear-resistant parts.
It also can crush wet materials, that is to say we can add water to reduce dust pollution when crushing wet materials and to protect worker's health and environment.
YK Vibrating Screen

With making circular movement, YK vibrating screen manufactured by Dingli is a multi-level and efficient new vibrating screen, designed specifically for screening material in the quarry, also for product gradation of coal preparation, mineral processing, building materials, electricity and chemical and other industries. The circular vibrating screen has big four types with various sizes. The exciter can be vibration box or eccentric block; the motor can be connected in the mode of universal joint or tire coupling.
Performance Features
Small size, light weight, simple and compact structure, small investment;
Easy installation, small amount of maintenance, low operating costs;
Low machine clogging, due to the increasing of vibrating ore material flow. The feeder is thus boasted with large ore drawing capacity and high efficiency;
Continuous, uniform and controllable ore vibrating. The ore flow can be adjusted as needed with safe and reliable operation;
Large fluctuations vibrating plate loading, for stable amplitude under super resonance. The feeder is strongly adapted to various ores especially viscous ore material and is able to operate in dusty or aqueous working environment;
Low power consumption and energy saving;
stepless feed quantity adjusting, with half-wave rectifier being adopted for electrical control. Once it is used in the production line, the automatic production process will be realized.
Applicable high temperature, severe wear and corrosion aggregates conveying with alloy-steel texture .