Introduction
Description
Different from heavy hammer crusher, hammer crusher with letter of PC is a standard crusher with lower output and crushes materials less than 200Mpa hardness as limestone and bluestone. Motivated by electric motor, the hammerhead can crush new aggregates by 360 degree rotating and is widely used in cement and concrete material crushing production line.
Working principle
By using high speed rotating hammerhead to impact ore, hammer crusher can crush them with its natural fracture and joint surfaces. As ore is fed into crushing chamber, it is crushed by high speed rotating hammerhead. Meanwhile ore gains kinetic energy in the process of impacting and gets into secondary crushing stage by rushing into crushing liner in high speed; meanwhile, ores are also crushed by each other in this process. And then aggregates are discharged from outlet after getting numerous times of crushing.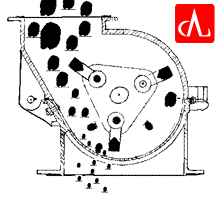 Performance Feature and Advantages
Low investment, quick money recovering, huge productivity, high output, reliable performance, high efficiency, convenient maintenance, and low production cost.
High output, environmental protection and energy saving, 1500ton hammer crushing production line, various application and handling.
Less wear, long service life, and adjustable discharging gate.
Complete modes, advanced technology, various production capacity. We use the most pioneering and advanced patent technology.
Hammer Crusher Price
So far, there are many types of crushers in market, such as jaw crusher, impact crusher, and heavy hammer crusher. The price of hammer crusher remains moderate and is cheaper than cone crusher. And with complicated structure and maintenance, cone crusher is specifically crushing harder aggregates. As to impact crusher, it can crush medium hardness aggregate while needs jaw crusher to work as a secondary crusher with wholly high investment. Thus it is wise to choose hammer crusher in reducing investment cost.
With the influence of many outer elements of steel price, human operation costs and the upgrading of technology, the price of hammer crusher cannot keep unchanging. However as a professional hammer crushing manufacturing company, Xinxiang Dingli is keeping providing customers with the most quality equipment in the most reasonable price. If you want to ask the price of the equipment, please inquire professional technicians who can tell you the quotaion after selecting equipment and planning complete production line for you.
After Sale Service
To ensure equipment has the best working condition and customer's trust and satisfaction, our company provides customer with qualified accessory and trained maintenance staff to provide prompt and fine after-sale service. Specific after-sale service contents are as following:
Send after-sale staff to introduce customer for installation and testing for free.
Train operators on site.
Ensure providing prompt original accessories with our wear parts.
Change broken accessories due to poor quality or wear under warranty.
Maintanence for free under warranty.